Returning Resident, Balikbayan Shipment
Relocating to Philippines, shipping to Philippines and or moving to Philippines.
CONGRATULATIONS! You found the right connect for your shipment to the Philippines. You may find other companies offering such services on line but Manila Forwarder is the only one that specializes in Philippine relocation, maintains it's own office in the country, and have decades of experience in doing relocation services. There is only one Manila Forwarder Philippines, Inc.

Our relocation experts, who will provide you with their cell phone numbers, will be straight forward to you and will expertly answer all your questions anytime.

This page mainly discusses USA to Philippine shipping but Manila Forwarder Phil, Inc have agents in the whole USA and Canada, United Kingdom, Australia, Japan, Papua New Guinea, Japan, Hong Kong, China, and Taiwan, among others. The rules is generally the same and but this uses USA as a guide.

WATCH THIS INFORMATIVE VIDEOS:
Kababayan LA TV Interview of Manny Paez by Miss Janelle So.
TV Commercial for Returning Residents


THIS INFORMATION IS MADE SPECIALLY WITH YOU IN MIND. THRU CLIENT FEEDBACK'S, THE INFORMATION HERE IS VERY STRAIGHT TO THE POINT AND EASY TO UNDERSTAND. PLEASE INVEST 10 MINUTES OF YOUR TIME TO READ ALL THE INFORMATION FOR THOUSANDS OF DOLLARS OF SAVING AND HASSLE-FREE RELOCATION. ALWAYS CLICK NEXT AT THE BOTTOM. BE WELL INFORMED.


PREPARATIONS: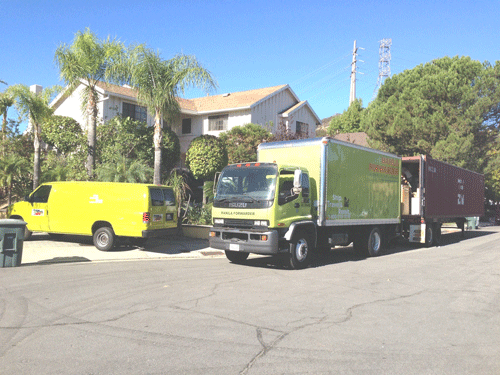 Returning to the Philippines is one of the most exciting decisions you'll ever make. It's important to surround yourself with familiar things from home, as they can help make adapting to your new community easier. Whether you plan to ship your entire household or just a few personal items, Manila Forwarders understand how important it is to you that your belongings arrive in a timely manner and in the same condition in which they left. That's why we invest in the people and technology that make a difference to you.

Manila Forwarders provides various shipping methods to cater to client's unique needs from any point in the world to any point in the Philippines:
1) < 15 balikbayan boxes- use 15 th box promo
2) < 15 balikbayan boxes + few furnitures, use the 15 th box promo + odd shape calculator
3) > 15 balikbayan boxes use 15 th box promo plus discount
4) > 15 balikbayan boxes + 2 bedroom furnitures, use Less Than Container Load
5) > 40 balikbayan boxes +2 bedroom furnitures, use 20' container
6) > 60 balikbayan boxes +3-4 bedrrom furnitures, use 40' container
7) > 80 balikbayan boxes +3-4 bedroom furnitures, use 45' container
8) > 90 balikbayan boxes, use LCL, see below
9) If shipping with automobile, please read Vehicle Shipping

The most common question that we receive about household goods shipping is the price.
There are a number of factors involved in determining the cost of shipping a container load of household goods and personal effects. But to satisfy one's curiosity, shipping from Port of Los Angeles or Port of Oakland costs around $2,500 but be prepare to spend around $5-10K for all the expenses depending on numerous factors.

Recently, the US government, thru US Homeland Security also conducts random inspections of out-bound shipments that causes delays and additional expenses that you will be responsible to pay, aside from the agreed contract amount. This is unpredictable and done in random. Manila Forwarder will guide you to minimize this by informing you of the rules of international shipping. You are also responsible to familiarize yourself with the shipping restrictions, find out MORE.

Manila Forwarders is Licensed and Bonded by the US Federal Maritime Commission with Licenses no.17312 N/F. Manila Forwarder Phil, Inc, our Philippine office is a licensed custom broker, accredited by Department of Trade and Industry's Philippine Shipper's Bureau and maintains a fleet of delivery trucks and personnel that covers the whole Philippines..

CHOICE OF DITTY MOVE ( Loading the Container Yourself )
Loading the container yourself is very popular among our clients. This saves them a lot of cash as well as allows them to know the locations of their things in the box because they pack it themselves. This dramatically saves them a lot of bundle due to insurance and US labor law requirements.

Ditty Move clients usually do this on a weekend wherein they could invite their friends to help them do the loading. This also serves as their despedida party where they could have a bbq while they are loading the container.

During DITTY MOVE, it is important that the loading party have the necessary equipments to do the job right. Please bear in mind that the container is 4.3 feet above grounds. We recommend that you rent a big truck with loading ramp so that you can park back-to-back to minimize any accidents in loading heavy furniture to the container.







MF may provide you with this lift gate equipped truck for a fee if in California.
Click Pictures


If from a different State or country, Budget Rental offers trucks with lift gate on per mileage, since you only need the lift gate, it might be more economical for you to just rent one in your local neighborhood Budget or other truck rental provider.




Moveout.com offers packaging materials at discounted rate delivered to your door.

We also recommend using professional grade packaging materials in your packing. Remember that the container gets lifted by a crane to be loaded to a ship and the ship moves around in the open seas. Click the above banners for details.

You know your shipment, start with a loading plan: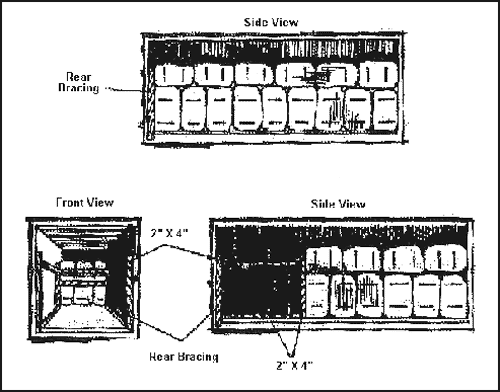 The picture below is how the inside of a container looks like. Use the O ring for tie down ratchet and use 2"x4" lumber for the side slots to secure your items. Be creative. Bear in mind that insurance companies does not protect you from breakage thus you are responsible in putting diligent effort to protect them. Insurance is highly recommended though that would cover you in case of hijacking, fire, jettison, total loss and free from general average liability.




DITTY MOVE, Philippine-side
When the container arrives in the Philippines and you opt to get our full Philippine services, we will be responsible in Customs clearing as well as delivery to the final destination in the Philippines. We will also unload the container for you. You also have the option to do this yourself.

OTHER METHODS
Air Shipments - are loaded into wooden and corrugated containers and shipped via air cargo. 3-7 days to Manila.
Less Than Container (LCL) - Not enough shipment to fill-up a whole container? We consolidate your shipment with other returning residents. We provide out most care to prevent any mix up by placing labels and placing segregation block on individual shipments. We do customs clearing and delivery, Approximately costs $400 per 1'x 8'x 8' (64 cubic feet ) or $6.25 per cubic feet. Minimum of 10 feet or 640 cubic feet coming from our warehouse in Los Angeles, CA. Plus pick up fee and delivery fee. See cubic feet calculator HERE.

One may do a Do It Yourself to avoid the pick up fee and transport your shipment yourself to Manila Forwarder Warehouse and pick up your shipment at our Metro-Manila warehouse in the Philippines.

Popular among our budget conscious clients is the pack it themselves, load it on a budget truck and drive to our warehouse in 3964 Eagle Rock Blvd, Los Angeles, CA 90065



We can also transport from any point USA to our warehouse using Relocube for out of California origin or provide a pick up within California for a fee.

Manila Forwarder have teamed up with U-Pack ® to provide our nationwide customers with simple Less Than Container ( LCL ) Relocation to the Philippines from any point in North America including Hawaii.

If you are only moving a one bedroom or just a few of your household goods to the Philippines and do not need a regular 20' or 40' full container, Manila Forwarder have the right solution for you with a ® ReloCube , a 6'x7'x8' weather proof steel container.

We will arrange the delivery of 1 unit of U-Pack's ® ReloCube, a metal, weatherproof container that will be dropped in your packing lot or lawn for up to three days and you simply load your belongings for shipment to the Philippines.

For inquiries, please click: http://manilaforwarder.com/containerquote.php




Full Container Load (FCL) - If you could fill-up a whole container, We could deliver the container to you and pick it up when you are finished loading ( 5 days max) . A cheaper rate is available if you could finish the loading and let the truck driver wait for you (LIVE LOAD, first one hour FREE. Then, you are charged for waiting time by the trucker). We then ship it to either Port of Manila or Port of Cebu depending on your choice. Possible charge of USD200 for Port congestion. We provide customs clearing and delivery as an option.

See container dimensions below :
6' RELOCUBE CONTAINER
6 ft L x 7 ft W x 8 ft H
Capacity : 305 c ft
Max Cargo Weight 2,500 lbs
20' STANDARD CONTAINER
20 ft L x 8 ft W x 8'6" H
Capacity : 31 Cubic Meters - 1159 c ft
Max Cargo Weight 24,000 lbs

40' CONTAINER *
40 ft x 8f t W x 8'6" H
Capacity : 67 Cubic Meters - 2377 c ft
Max Cargo Weight 42,000 lbs

*If you think that a full container is too big, Please download this form ( Excel Program ) and this would automatically compute the total size of your shipment. Please email the accomplished form to us.

Storage Option
Manila Forwarders maintains a weekly shipment. However as an option, we can store your belongings, including any appliance deliver to us for a few days in our large, secure warehouse. When the time comes, your lift van will be loaded into large steel containers supplied by the steamship line.

We can also store your items in our Manila warehouse for a reasonable fee.

This phase of work, including sealing of the steel container and its delivery directly to the pier is handled entirely by our staff.

Insurance
We encourage, offer, and provide shippers of FCL/LCL Maritime insurance. Insurance is said to be a unnecessary evil, however, it is always prudent to insure your shipment as Manila Forwarder will not be liable for any shipments not covered by insurance.

Arrival at Destination - Off the Ship
You will be contacted by a Manila Forwarders representative in the Philippines as soon as you arrive and will be provided with additional information and guide you with the documents you need to obtain in the Philippines government. We will also send you an arrival notice as soon as the container arrives at the port. You need to update our Manila Office your contact information.

If you selected door-to-door or port-to-door service, our representative make arrangements upon completion of clearance for the delivery of your goods to your new home.

Customs-Clearing your Belongings
You will need some or all of the following documents in order to clear US and PH Customs:
Passport, US Passport Holders requires either Dual citizenship or 13-G immigrant Visa available at Philippine Consulate . Please download forms Application for Immigrant Visa Forms 3 and 11.
Detailed packing list with value of content
Proper proof of tax exemptions, if entitled
Copy of agreement with Manila Forwarders
Delivery order notice

For Dual Citizens:
Philippine Passport
American Passport
Birth Certificate (additional requirement)
Oath of Allegiance for Dual Citizens
Identification Certificate

Commercial or donation shipments, please email us the details.

CLICK NEXT: Packing, Padding and Protecting your Shipment
Back to Top