---
Manila Forwarder offers the best option in all your needs to connect:
from balikbayan box, relocation container, automobile, equipment, supplies, drop-ship, money transfer,
and all logistical services to and from the Philippines and the world- by land, sea, and air.
No matter where you are, Shop online in the safety and comfort of your home, have it delivered to us,
we will pack and ship it-Worldwide!
Los Angeles, CA Warehouse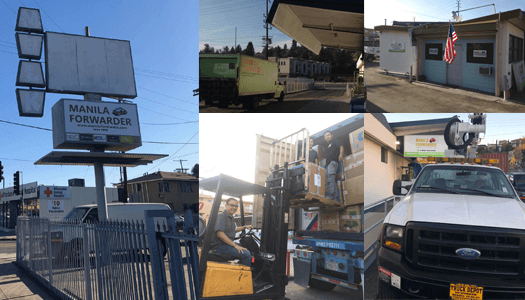 Los Angeles, CA Warehouse Map
Balikbayan Box
Manila Forwarder offers no physical contact safety protocols. For box request, schedule a pick-up or tips on sending balikbayan box click here.
Returning Resident
Manila Forwarder is the only one that specializes in Philippine relocation, maintains it's own office in the country, and have decades of experience in doing relocation services. For hassle-free shipping click here.
Vehicle Shipment
Manila Forwarder is known for shipment of vehicles to the Philippines door to door. Delivered, registered and ready to drive. No hidden charges. . More info.
Air Cargo
For small and big shipments that needs to be there ASAP, Manila Forwarder consolidates its air cargo shipment and it departs every Friday morning. DHL and FedEx also available. More.
PH to USA/World Shipment
Manila Forwarder Phil, Inc handles both in-bound and out-bound shipments of commercial goods and household effects. We offer Full Container Loads and Less Than Container Loads and ship WORLDWIDE. More.
Travel Booking
Manila Forwarder also offers travel to Philippines thru its sister company TravelPH.Com. Our expert travel professionals with offices in the USA and Manila surely can work on your travel needs even if you are in a tight budget. More.