ECO SHIPPING
USA 
Posting Date: 10.23.2009, Los Angeles, California
Eco Shipping with Manila Forwarder
Manny Paez

A California-based balikbayan box company, Manila Forwarder introduces an earth-friendly reusable plastic shipping drum as an alternative to the usual balikbayan box and jumbo box. These drums can be donated to the balikbayan box recipient's community to be used as trash cans to prevent the clogging of Metro-Manila's estero and flood drains. This can also be used to collect rain water among others.

With the number of balikbayan boxes to be shipped to the Philippines for this Christmas season, in due time, most barangays in Metro-Manila will have a trash drum to collect Metro-Manila's trash more effectively.

The plastic drums comes in two sizes, Bianca, is a 30 gallon and Roland, a 55 gallon. They can be shipped to Metro-Manila for as low as $99 for Bianca and $169 for Roland, including the reusable, EPA approved, recycled plastic drum. A $30 deposit will be required upon drum request which will be deducted or applied to the final shipping cost.

As the first to introduce the jumbo box in the balikbayan box industry in 1998 and internet package tracking in 2002, Manila Forwarder answers the call to be earth-friendly with this Bianca and Roland shipping containers. 
These containers are advisable for expensive and breakable items as these drums are sturdy and will provide adequate protection to its contents providing similar protection if not better to crates. The international requirement of fumigation for wooden crates is not necessary on this as this are made of plastic.

These recycled drums are cleaned and disinfected using EPA approved methods.

The Bianca and Roland Drums come with a metal latch that secures the cover making it water and air-tight. There is also a latch where clients can place a padlock or plastic ties that serve as security seal. However, it is required to keep it unlock until pick up to facilitate random inspection.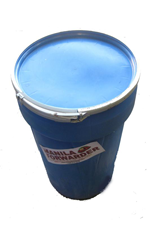 Bianca and Roland drums comes with metal latch for security against all elements.

All shipments are subject to US Homeland Security and / or Philippine Customs manual or x-ray inspections.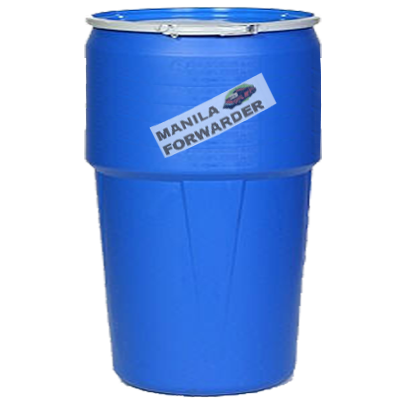 Bianca Drum, 30 gal.                                             Roland Drum, 55 gal.

The Bianca drum�s dimension is 28.5" x 19"x 19", 5.95 cubic feet, is about the volume size of a jumbo box. This has a longer length than jumbo box that can easily fit long items like stroller, golf set, among others. The shipping cost of Bianca Drum, including the drum itself is $99 to Metro-Manila, $109 to all of Luzon, and $119 to Visayas, Mindanao, and other Philippine Islands.

The Roland drum's dimension is 37.5" x 22" x 22", 10.50 cubic feet, is about 2.3 size bigger than regular balikbayan box. The shipping cost of Roland Drum, including the drum itself is $169 to Metro-Manila, $179 to all of Luzon, and $189 to Visayas and Mindanao.

These stackable drums can be used as water container, storage barrel, and floatation device, among others.

Initially, these are available only in California and for Manila Forwarder's Philippine-based clients. 

For more details, Please visit our website www.manilaforwarder.com to see videos and pictures of Bianca and Roland Shipping drums or call our Toll Free Number 1.800.210.1019.
Back to Top